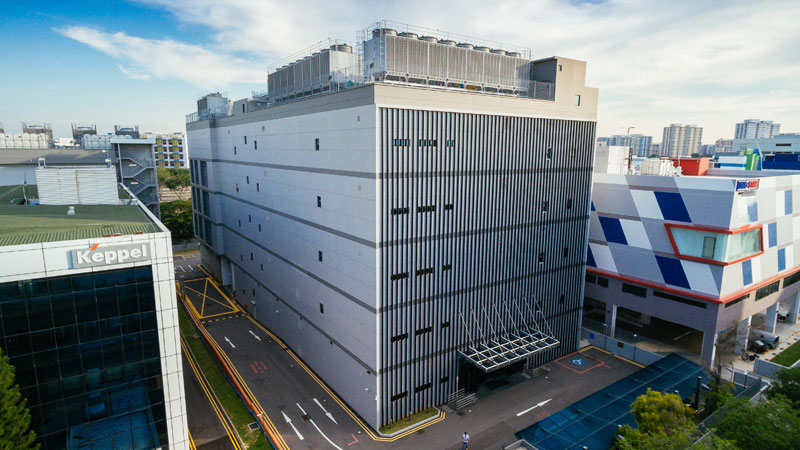 Keppel DC Singapore 3 (KDC SGP 3) is located adjacent to Keppel DC Singapore 2 in Tampines, Singapore.
Completed in 2015, KDC SGP 3 is a modern five-storey carrier-neutral data centre providing data centre solutions, dedicated colocation suites, as well as 24x7 technical support to its clients.
Built to energy-efficient specifications, the facility is equipped with redundant power and cooling infrastructure to meet high powered rack requirements.
KDC SGP 3 is also the first data centre in Singapore to achieve the BCA-IMDA Green Mark for Data Centres Platinum Award., the highest green accolade from the Building and Construction Authority of Singapore and the Info-communications Media Development Authority of Singapore. KDC SGP 3 has been certified with the Leadership in Energy & Environmental Design (LEED) Gold Award since 2014.
KDC SGP 3 has been certified to have fulfilled the requirements of the following:
ANSI/TIA-942-B:2017 Rated-3
bizSAFE Level Star
ISO 9001:2015 (Quality Management System)
ISO 14001:2015 (Environmental Management System)
ISO/IEC 27001:2013 (Information Security Management System)
ISO/IEC 27701:2019 (Privacy Information Management System)
ISO 37001:2016 (Anti-Bribery Management System)
ISO 45001:2018 (Occupational Health and Safety Management System)
ISO 46001:2019 (Water Efficiency Management System)
ISO 50001:2011 (Energy Management System)
ISO 9001:2015 (Quality Management System)
Leadership in Energy & Environmental Design (LEED) Gold Award
SS 564 Part-1:2013 (Energy & Environment Management System)
SS 507:2015 (Provision of Business Continuity and Disaster Recovery
Facilities Services)
SS 564 Part-1:2020 Energy & Environment Management System
Water Efficient Building by PUB